The Best Tennis in Palm Desert
Welcome to the Best Tennis Resort in the Palm Springs Area. Shadow Mountain Resort & Club®, the first Palm Desert tennis club, has award-winning tennis facilities and training. Tennis Magazine has consistently ranked the Desert Tennis Academy as one of the top 25 tennis academies in the U.S. (the magazine has also named Shadow Mountain, the famed Palm Desert tennis club, as one of America's 50 greatest resorts for the past 20 years). Shadow Mountain also holds the distinction of being one of the Top 75 Tennis Resorts in the world in 2017 and one of the Top 25 Camps with the Jr. Desert Tennis Academy, as named by Tennis Resorts Online.
Award-Winning Tennis Facilities
Offering one of the Palm Springs area's top tennis destinations, our extensive, well-maintained facility includes 16 courts, including 3 clay and 6 lighted for night play. And the spectacular weather of the California desert allows for play and sunshine 350 days a year. As a resort guest at Shadow Mountain, court time is free. Resort guests may call to reserve courts 24 hours in advance. If you're traveling solo and need a partner to play, or if you and a partner would like to play doubles – our tennis coordinator is happy to match you up with other players at your level.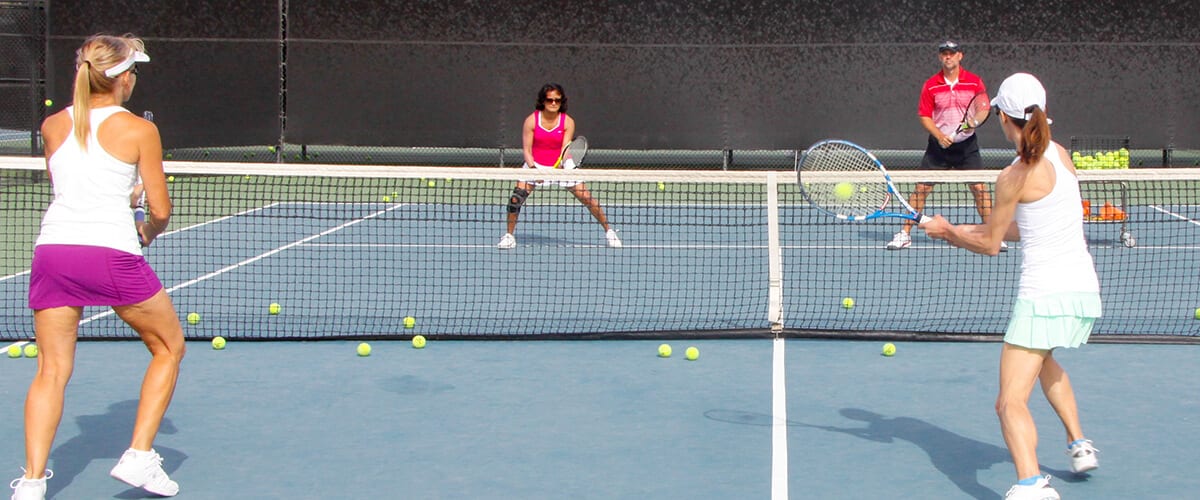 Year after year, many tennis groups from all over Southern California and beyond choose Shadow Mountain Resort & Club to host their tournaments and special events.
Beyond the top-rated tennis amenities, the Club offers group rates for teams and family members. Guests can select from a variety of spacious rooms, including studios and one, two and three-bedroom condos and villas.
Choose from a variety of daily tennis clinics & lesson programs for adults of all ages & skill levels. Bring your team and let our pros provide a preseason tune-up.
Private and semi-private lessons are available through the resort's Desert Tennis Academy. Email us to reserve your spot at the Academy's clinics. For those just wanting to practice your strokes, ball machines are available for rent.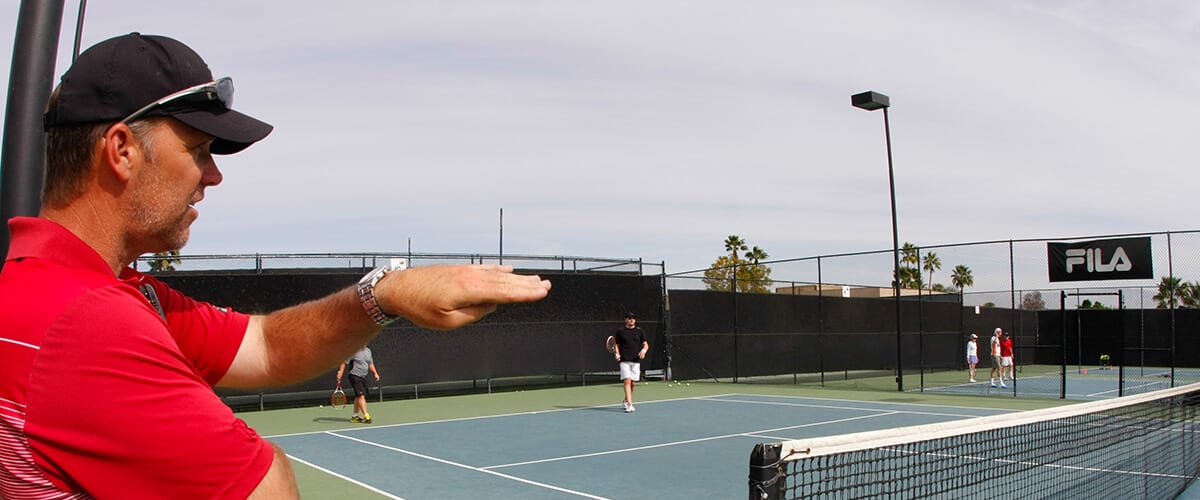 Meet our three passionate and qualified tennis instructors that you will be working with during your lessons and clinics at the Desert Tennis Academy.
For more information about tennis and the latest social events happening at the resort during your stay, please contact our pro shop at 760-346-6123 or email tennis@shadowmountainresort.com to reach the first and best Palm Desert tennis club.