The Pink Cabana
The Pink Cabana transports you to another time and place with its eclectic retro interior and vibrant Mediterranean cuisine with a Moroccan influence. The Pink Cabana in Indian Wells serves breakfast, lunch, and dinner daily, and weekend brunch. Try their Pool Thyme Mimosa or a Turkish coffee along with the Moroccan Pancake, Vegetable Tagliatelle, or Cabana Meze.
Louise's Pantry
First opening in 1946, Louise's Pantry is the place to go for classic breakfast and lunch. This spot is a must-visit when you're in the Coachella Valley. Louise's Pantry uses fresh, seasonal ingredients for dishes like banana pancakes, steak and eggs, and the 'make your own omelette.' The menu is extensive at Louise's, so no matter what you're in the mood for you'll find something here.
FARM in Palm Springs is a rustic-chic spot serving farm-to-table cuisine inspired by the South of France.
Old Town Coffee Company
Located in the heart of Old Town La Quinta, Old Town Coffee Company is a cozy space to meet friends and relax with a cup of coffee. Serving breakfast and lunch favorites, this spot has fresh pastries, sandwiches, wraps, bagels, and more. If you're out and about shopping in Old Town La Quinta, a stop at Old Town Coffee Company is a must.
IW Coffee Chai Bar
Grab an artisan latte or, coffee or chai at IW Coffee Chai Bar. Located on Country Club Dr. in a modern, industrial space, IW Coffee Chai Bar serves breakfast and lunch classics. Grab a bagel or steel-cut oatmeal for breakfast or a turkey bacon and avocado sandwich for lunch.
Beach House Frozen Yogurt
Beach House Frozen Yogurt serves dozens of flavors of frozen treats, including non-fat yogurt, premium yogurt, gelato, sugar-free, and non-dairy sorbet. This self-serve yogurt shop has a rotating selection of 21 different flavors and more than 60 toppings to create the perfect dessert.
Holey Scoops
Holey Scoops offers 12 ice cream flavors, root beer floats, milkshakes, and more in a traditional shop in Palm Desert. Owned and operated by brother and sister duo Aaron and Becca Brukman, Holey Scoops is not just an ice cream shop, but it was envisioned as a gathering place for family and friends.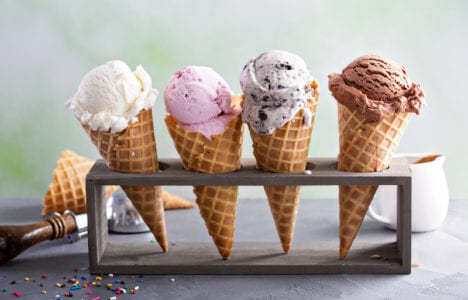 Nitroinfusions
Nitroinfusions serves some of the freshest ice creams around. Using liquid nitrogen, Nitroinfusions freezes your ice cream right in front of you, which eliminates air and minimizes ice crystals for smooth and fresh tasting ice cream each time. Each ice cream is also made with 100 percent organic ingredients, no preservatives, and no additives. All ingredients are fresh and locally sourced. Pick from more than 30 flavors.
Lappert's Super Premium Ice Cream
Lappert's serves up award-winning ice cream in a rotating selection of 260 distinctive flavors with 48 flavors to choose from each day. A visit to Lappert's and you'll find flavors like Date Casablanca, Kauai Pie, Banana Cream Pie, Kona Coffee, Caramel Coconut Macadamia Nut, and Hawaiian Sea Salt Caramel.
JC's Cafe
Located on El Paseo in Palm Desert, JC's Cafe is a family-owned and operated restaurant since 1987. JC's is known for their Saturday and Sunday brunch, and fresh food and cocktails. Grab breakfast and lunch here, or swing by for happy hour drinks and snacks.
Desert Fox Bar
Located just a few blocks from the famous El Paseo shopping and dining district, the Desert Fox Bar is one of Palm Desert's best bars. The cozy cocktail lounge originally opened in 2010 but moved locations in 2017. Now in a larger space, the cocktail bar features live music on weekends and two outdoor patios.
The Nest
The Nest is one of the Coachella Valley's longest-standing live entertainment clubs. The Nest first opened its doors in 1965 and has been serving dinner and nightly entertainment ever since.
Eureka offers American craft fare and craft beer in a casual environment. Stop by for their two daily "hoppy" hours from 2pm – 5pm and 9pm – close.
Vue Grille & Bar
Vue Grille & Bar offers on-trend New American dishes in a casual and modern environment. Better yet, their happy hour is from 3pm – 6pm daily! Some of our favorite dishes from the Vue? Beer Battered Fish Tacos, Pulled Pork Sliders and Fries, and Spicy Meatloaf. They also offer Mac n Cheese, because you can never be to old for a classic like that.
La Fe Wine Bar
La Fe Wine Bar offers a great selection of wines in a modern and elegant atmosphere. It's the perfect place to grab an after-dinner drink or go for a classy dinner. The mushroom flatbread and short ribs sliders are local favorites, and they offer an excellent happy hour from 5pm – 7pm Monday through Saturday.
Mario's Italian Cafe
Pizza, pasta, calzones, salads, subs and more! Mario's Italian Cafe is a homey Italian joint, offering a family-friendly spot to enjoy classic dishes. Mario's Italian Cafe is family-owned, and run by three generations of the Del Guidice family.
Bill's Pizza in Palm Springs offers quick and tasty pizza, salads, wine and beer. This is a great place to stop in for dinner or to order in to your hotel room after a long day of fun in California! Bill's Pizza is also a socially-minded restaurant, donating to over 20 non-profits yearly, and providing free food to local homeless shelters and sober living houses.
Can't decide where to eat?
Join Desert Tasty Tours, a walking food tour along El Paseo and sample six different restaurants/specialty shops during this 3-hour tour. In addition to sampling a variety of foods, learn about the art, history, and culture of Palm Desert and the surrounding area. Tours are held Wednesdays – Saturdays, October through April.